Education/Resources
Useful Links
Michigan State License Application
To view the Michigan State Respiratory License Application packet, please
click here.
DRIVE4COPD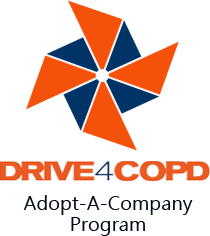 DRIVE4COPD is a multi-year public health initiative to screen the millions of people who may be at risk for COPD. As many as 24 million Americans have COPD but approximately half do not know it and remain undiagnosed.
Click here
for more information on the DRIVE4COPD Adopt-A-Family Program.
Career Information
The AARC Career Site offers several resources that are great for current Respiratory Care students, including the Career Advice section with resume tips, job bank, etc. Also, the Life & Breath videos available here show an overview of the career, but also have shorter videos on several of the specialties available that may be of interest. This is the same video that is available on DVD through the AARC Store, so you or the school may already have a copy.
Click here to view the AARC Career Site
Pulmonary Rehab Programs in Michigan
Please
click here
to view a list of the current Pulmonary Rehab programs available in Michigan.
AARC Pulmonary Rehab Toolkit
Please
click here
to view the AARC Pulmonary Rehab Toolkit which includes information on charges for G0424
Resource Library
Online Journals
AARC Times
(AARC member login required)
Respiratory Care
- the science journal of the AARC
ADVANCE for Respiratory Care and Sleep Medicine Professionals
- online source for current clinical articles
American Journal of Respiratory and Critical Care Medicine
Chest
- the publication of the American College of Chest Physicians
Critical Care Magazine
- publication of the Society of Critical Care Medicine
Pediatric Pulmonology
PubMed
- US National Library of Medicine and National Institutes of Health
RT Magazine
Therapeutic Advances in Respiratory Disease
Resources for Professionals
AARC Clinical Practice Guidelines
Clinical Trials
- find trials for specific medical conditions or drug interventions
GOLD COPD Guidelines
(latest revision: 12/2007)
The Merck Manual
- online medical library for healthcare professionals
Pleural Mesothelioma Information
- Mesothelioma Guide provides information about treatment options and prognosis outlooks for pleural mesothelioma patients.
NHLBI EPR-3 Guidelines for the Diagnosis and Management of Asthma
Other Practice Guidelines in Pulmonary Medicine
Support Groups
Better Breathers Clubs in Michigan
Cystic Fibrosis Foundation
Pulmonary Fibrosis Foundation
Quit Smoking
- information to help you quit smoking tobacco products
MSRC Poster Presentation Template
Poster Presentation Template
Poster Presentation Instructions
Poster Presentation Intent to Present
Other Resources